BUILDING TRUST IN FOOD STARTS ON THE FARM
We help farmers enrich soils, protect waters, clear skies and nurture habitats.
Consumer confidence and trust in the value chain that grows, processes and markets America's food depends on a sustainable and resilient agricultural production system.
Across the nation, we are collaborating to bolster such a system – alongside government agencies, conservation nonprofits, farmer associations, agribusinesses, food companies and food retailers.
Together, we are empowering farmers to catalyze economic, environmental and social improvements by explaining the why, how and what next of adopting on-farm conservation and sustainability practices.
AMERICA'S CONSERVATION AG MOVEMENT
One of America's largest public-private
partnerships committed to conservation
agriculture and sustainability.
Building trust in food begins with empowering farmers through one of the largest and most diverse conservation- and sustainability-focused public-private partnerships in our nation's history: America's Conservation Ag Movement.
A focus on conservation has long been a hallmark of American agriculture (learn more). But there's much more to be done – and new ways to do it. In cooperation with the Farm Journal Foundation, a wide variety of conservation NGOs, and public and private entities, the initiative deploys extensive nationwide outreach and education –empowering farmers to adopt profitable conservation and stewardship practices on their farms.
The movement will reach almost 2 million farmers and influencers of agriculture across the entire agri-food value chain, including crop, produce, and livestock producers and the channels they serve. It will include national TV and radio programming, extensive magazine coverage, digital channels and social media outreach. The platform also features on-the-ground peer-to-peer learning, educational workbooks and webinars, training courses, multiple research projects exploring the history and economics of conservation agriculture practices on U.S. working lands, and more.
Focus areas include:
Enriching Soil Health
Protecting Waters
Clearing Skies
Growing Habitat
Fostering Farm Businesses
Help agriculture advance. Join the movement.
OUR WORK
We utilize data science, research and strategic communications
to empower farmers and drive the adoption of profitable
conservation agriculture practices.
Data Science
Statistical modeling and analysis of proprietary and public agricultural data

GIS-based population segmentation

Predictive analytics
Research
Behavioral research and social network analysis

In-depth interviews, focus groups, listening sessions, and surveys

Desk research and meta-analysis
Strategic Communication
Farmer activation and recruitment

Behavior change communication campaign strategy design and intelligent campaign delivery

Campaign monitoring, evaluation, and learning services
A purpose-driven division of Farm Journal, U.S. agriculture's leading business intelligence and communications company
Trust In Food partners with leading NGOs, agribusinesses, government agencies and others to create solutions driving profitable on-farm conservation practice adoption, culminating in positive outcomes for farm businesses, communities and our shared natural resources.
Connect to farmers with America's most trusted agricultural voice
Farm Journal has been the most trusted voice in agriculture since 1877. Today, dozens of broadcast, digital, print and data brands capture the attention of nearly 2 million farmers, ranchers, advisors and partners that drive American agriculture. Our data scientists, researchers and journalists provide the critical science, business and market insights this audience needs to manage their operations.
Trust In Food uses the robust media platform and communications expertise of Farm Journal — across row crop, produce, livestock and channel partner audiences – and Farm Journal's proprietary Farm Reach database capabilities to conduct highly effective behavior change outreach campaigns and illuminating sector research.
Farm Journal's national reach.
Farm Journal's proprietary agricultural database.
Data Science
Statistical modeling and analysis of proprietary and public agriculture and consumer data.
Research
Custom qualitative and quantitative data collection and studies.
Strategic Communications
Data-driven behavior change communications and outreach, designed for intelligent delivery.
Enhancing the Relationship Between Farmers & Landowners
In the states of Illinois, Indiana and Iowa, many farmers don't own the land they work, but instead rent from non-farming landowners, or nonoperating landowners (NOLs). Strong relationships between NOLs and farmers are vital to achieving wide-scale adoption of soil health and nutrient management practices across U.S. croplands. This project is designed to enhance understanding of those relationships and provide the tools and resources necessary to help both parties collaborate on soil health practices that improve farm businesses.
Improving Conservation Campaign Effectiveness
In the Chesapeake Bay Watershed, we are testing the use of machine learning and artificial intelligence platforms to predict and deliver micro-targeted conservation information and education. We're working with our partners to deliver customized messages to farmers who own pieces of property critical to conservation and who are most open to engaging in conservation behaviors. We will use statistical modeling rooted in consumer behavior to ensure the resources we deliver are as useful and actionable to farmers as possible.
Accelerating Water Quality Improvements
In the North Raccoon Watershed of western Iowa, we are working with our partners to develop novel environmental and demographic datasets to target outreach and technical assistance to farmers and landowners. This process is expected to result in improved efficiency and accelerated adoption of conservation practices that improve water quality in the Mississippi River Basin.
Advancements in irrigation technology have the potential to improve the efficiency of farm business operations through increased water, time and money savings – all the while conserving precious natural resources. Working with partners and regional experts, a series of localized educational resources were developed to equip farmers with the basic technical understanding they need to begin improving their irrigation infrastructure. These resources are deployed in an activation campaign to motivate farmers in Southwest Georgia and the Florida panhandle to access on-farm technical assistance. Click here to view all Irrigation Station reports and resources.
For every organization, fiscal resources always have a limit. The finite amount of dollars dedicated to farmer engagement can limit the number of farmers that field agents and technical assistance providers can serve. By using strategic communication campaigns to efficiently generate demand for technical assistance, this project frees up limited budget allocations for on-the-ground technical service implementation.
Testing The Reach And Impact Of Agricultural Resources
An enormous amount of information exists to explain the benefits of increased conservation agriculture practices – but, which resources work, and which don't? This project tests the impact of our partner organization's podcast that has been designed to deliver conservation messaging to farmers. The results are intended to inform our partner about how their podcast impacted a farmer's willingness and knowledge levels, determine a farmer's likeliness to share the learned information and, most importantly, understand if farmers feel like they would use the podcast resource again.
Agricultural retailers and their crop consultants have a critical role to play in the transformation of the broader agricultural industry to sustainable production. This project undertook original research with ag retail professionals across the country to understand how innovators are successfully embracing conservation, stewardship and resilience as part of their retail business' portfolio.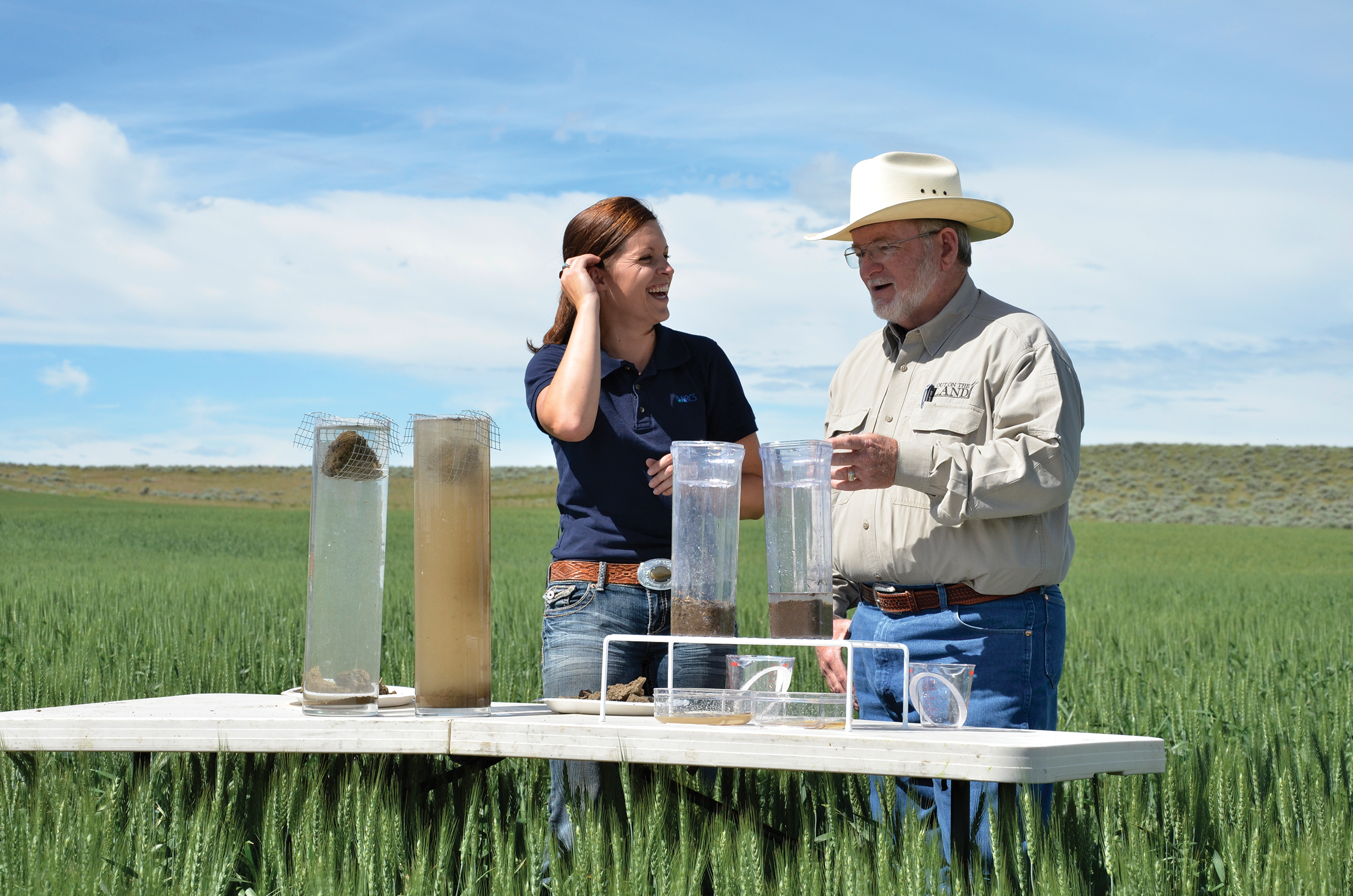 Farmers across the country are primed to play an outsized role in the protection and conservation of the nation's water resources, including supporting downstream communities and ecosystems, according to new research from Farm Journal's Trust In Food initiative. This project undertook a national survey of more than 900 farmers representing nearly every state and major farming region to identify their unique perspectives on water and water challenges.
Several challenges prevent farmers from collecting and sharing data on their production practices with downstream supply chain organizations, such as food companies and retailers. This project undertook research in collaboration with The Sustainability Consortium to understand farmer perspectives around these challenges and makes informed recommendations on how organizations can adapt their programs to farmer needs.
COLLABORATE
WITH US
Get in touch with us to learn more about how we can help your organization meet its conservation and sustainability goals.
Data Science
Research
Strategic
Communication
Sign Up For Our Newsletter
Get the latest news and resources related to conservation agriculture and sustainable food systems sent to your inbox!